Miami, to me, is one of the easiest cities to navigate, yet it can be overwhelming for some. I've always wanted to put together something like this, and finally I have enough photos to do it. This is a quick lesson in navigating Miami streets. Once you learn the system, you too may find that Miami is one of the simplest places to move around. Now, the traffic, that's another story.
PART I:
LEARNING THE GRID: SOME BASICS
Signage is ample, and there is a countywide numbered street grid that has been laid out logically and methodically.
Miami is laid out on a cartesian-style grid, divided into four quadrants (NW, NE, SW, SE), created by "x-axis" and "y-axis" roads.
Flagler Street is Miami's "x-axis", dividing north from south.
"Streets" are east-west roads, and all streets north of Flagler will carry a "N" designation, while all streets south of it will carry a "S" designation.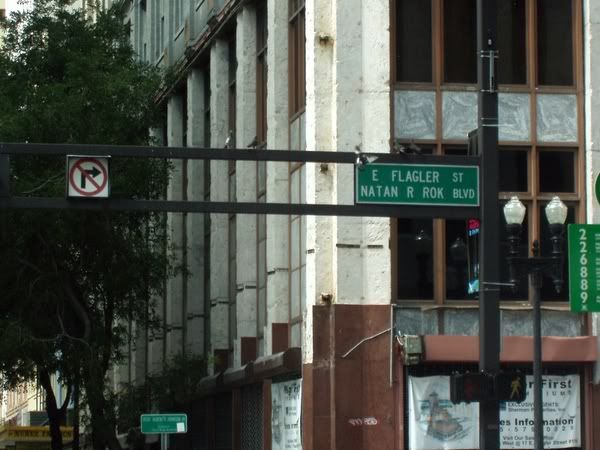 Miami Avenue is the city's "y-axis", dividing east from west.
"Avenues" travel north and south, and all avenues west of Miami Avenue will carry a "W" designation, and by extension, those east of it will carry an "E" designation.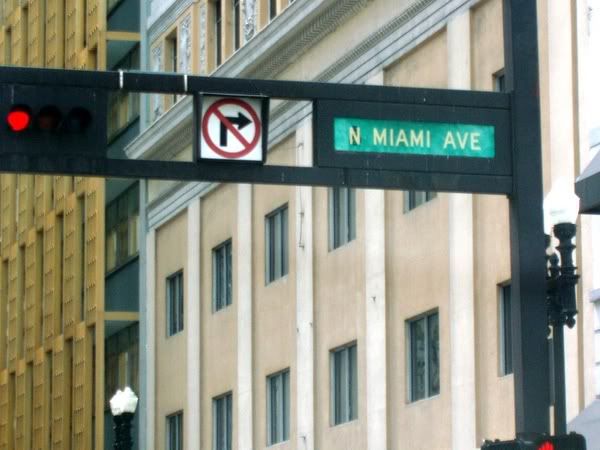 Flagler Street and Miami Avenue intersect in downtown Miami, and this would be considered the "origin" of the grid.
Street signs and traffic signals are the primary responsibility of Miami-Dade County. The grid extends far beyond the city limits of Miami across the entire county, giving Miami-Dade County a fairly uniform street system. There are a couple of notable exceptions, will I will mention later. The genius of the system is the precision. Avenues are spaced exactly 1/10 of a mile apart, so that means that 10 avenues will equal one mile of distance traveled. Streets are 1/16 of a mile apart. A block ten avenues by 16 streets is equal to one square mile.
Major avenues in the NW/SW area end in either a 2 or a 7. They are numbered in succession: (N/S)W 2nd Ave, 7th, 12th, 17th, 22nd, 27th, 32nd, etc... as far as Krome Avenue (177th Avenue), located 17 miles west of the center of downtown Miami.
------------------------------
"I SAW THE SIGN"
This is what a standard street sign looks like in Miami. It gives the quadrant, the street number, and the street type.
The standard template calls for the street number to be larger than the quadrant and the street type, as you can see below. This is also a standard traffic signal configuration for Miami. The traffic signal is mounted in a horizontal orientation on an aluminum mast-arm.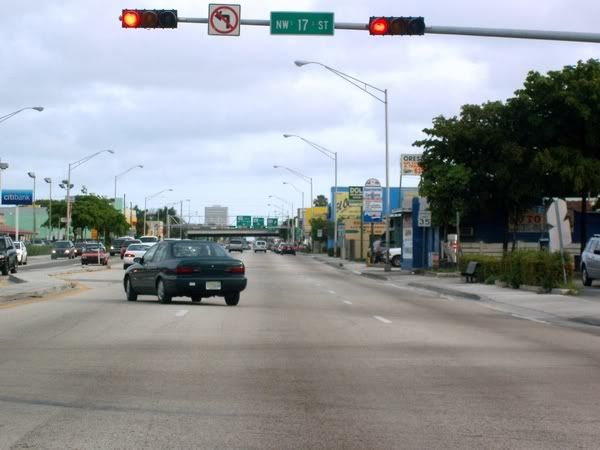 ------------------------------
WHAT'S YOUR NAME, WHAT'S YOUR NUMBER
While Miami does have numbered streets, historically there have been a lot of named streets. Many streets in Miami carry
both
a street
name
and a street
number
. Many of these are historic roads that had a name first, and planners kept the name even as they began aligning roads onto the grid countywide. For these "legacy" roads, many people use the name and the number interchangeably.
------------------------------
"MAKE IT SO, NUMBER ONE!"
There are also many thoroughfares that are not on the grid at all. Biscayne Boulevard is one of them. Biscayne Blvd starts in downtown Miami near the present day Met1 site and it extends all the way to the Broward County line at NE 213th Street. Biscayne Blvd also carries the designation US Highway 1 (US 1). Miami-Dade County does something which I really admire, and that's this: their signage includes
both
the highway name
and
the route number: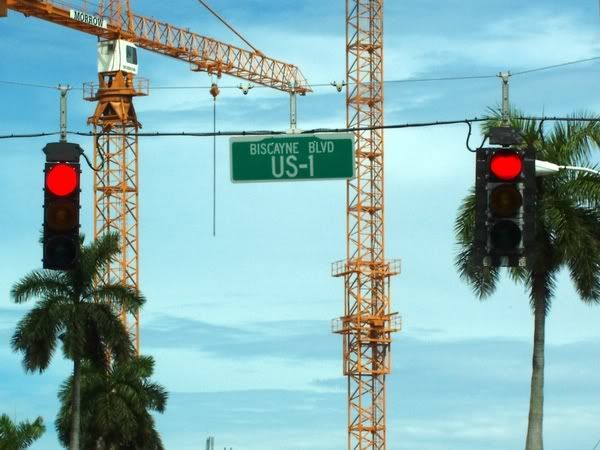 Why is this such a big deal? Because even though Biscayne Blvd is a long thoroughfare that extends from NE 213th St to SE 3rd St,
US 1
extends much farther. In fact, when US 1 crosses the Miami River, it becomes a new road with a new name: Brickell Avenue.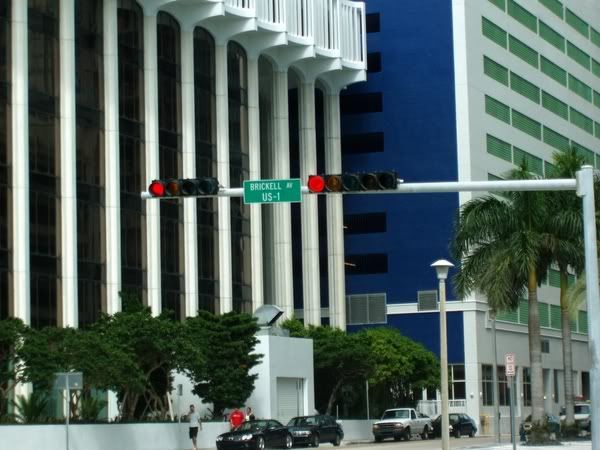 South of Brickell (SE 25th Road), US 1 doesn't have a name at all, so the signage reflects that.
But that's just a transition, because eventually US 1 will gain another name: South Dixie Highway.
So while the name of the thoroughfare can change, the sign lets you know that these are in fact the same highway.
------------------------------
"SHOW ME THE WAY"
So far we have seen where a street may change but the route number remains consistent. Let's see another variation on this. As I said before, many historic roads that became part of the grid retained their historic names. Coral Way is a great example. The original stretch of Coral Way was a windy road from Brickell to a point somewhere in west Miami. It officially starts at the intersection of Brickell Avenue (US 1) and is called SE 13th Street.
When it intersects with Miami Avenue, which is neither east nor west, it becomes simply S. 13th Street.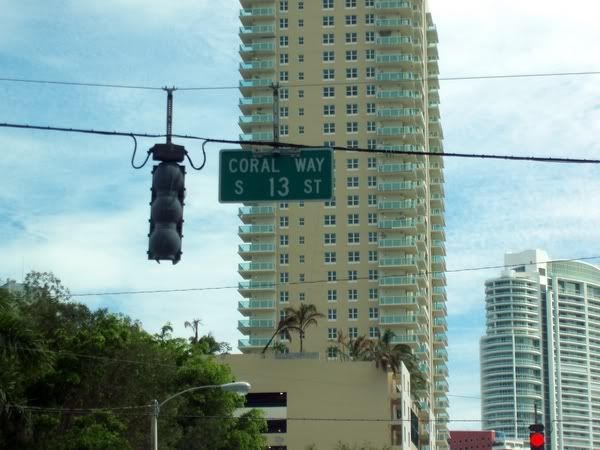 Then Coral Way begins to wind. It is no longer an east-west street and it becomes a north-south avenue. This is also a picture of what a street sign post looks like when there is a named and numbered street.
Coral Way takes another turn and becomes an east-west street again.
------------------------------
CORAL GABLES BREAKS THE GRID
At SW 37th Avenue (Douglas Road), the boundary between Miami and Coral Gables, Coral Way will temporarily lose its numeric identity. Coral Gables has named streets, and numbers only appear on the major county and state thoroughfares that cut through the city. In fact, in the appearance-conscience Coral Gables, you won't find street signs as easily as in the rest of Miami. Through downtown Coral Gables, Coral Way gets a new name: Miracle Mile.
These are how signs appear in downtown Coral Gables. They are next to impossible to read because they tend to blend in with their surroundings. The cross stret appears directly above it, in this case, Ponce de Leon Blvd: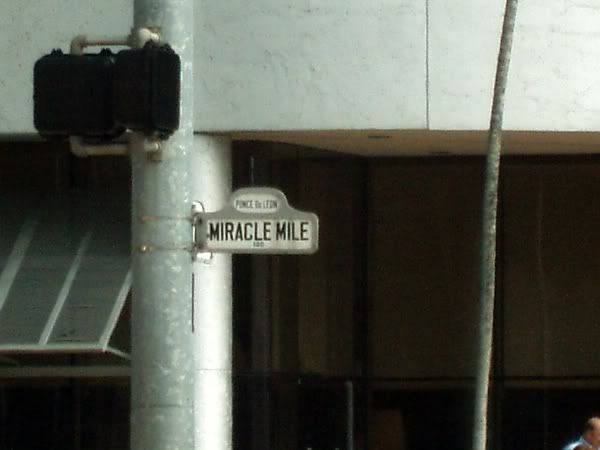 At SW 42nd Avenue (Le Jeune Road), Miracle Mile ends and Coral Way continues where it left off, as you can see on this sign (a road also forks off from it but that's not relevant to this discussion). This is an example of a state road that cuts through the city and Coral Gables' signage rules are overridden:
Coral Way continues through a residential neighborhood. You won't find street sign posts in Coral Gables -- they are against city ordinance. Instead you will find these white stones on the ground with the street names stamped on them. The block numbers appear below. Sometimes they are really hard to read, especially at night. Here is a sample of what the little stones look like:
At the Coral Gables city limit at SW 57th Ave, Coral Way rejoins the Miami-Dade street grid and becomes a new street: SW 24th Street.
So, as you can see, while a street can curve and change numbers several times, it maintains its street name.
------------------------------
IN MEMORY OF...
Miami also has a habit of assigning commemorative names to certain streets. Some of these are names designated by acts of the Florida Legislature, and others are adopted by city or county resolution, depending on who owns the street. Nobody actually uses these names to refer to the street. Again, they are just commemorative.
Florida installs these brown signs when the Legislature dedicates a segment of a state highway to someone: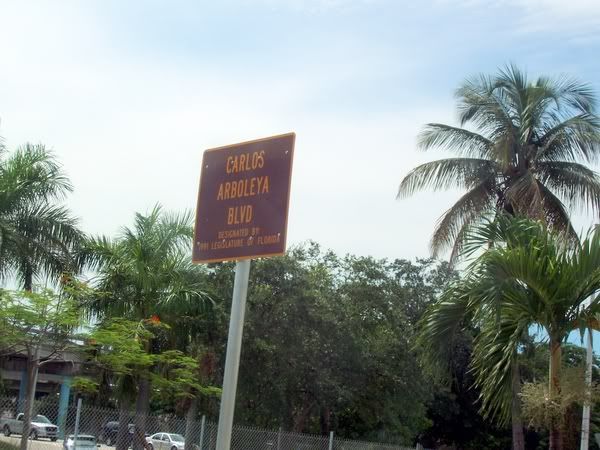 Miami-Dade County responds by actually putting the name of the commemoree on the street sign:
This isn't just for state roads. Many city and county streets also get commemorative names. Here is a county-owned street in downtown Miami: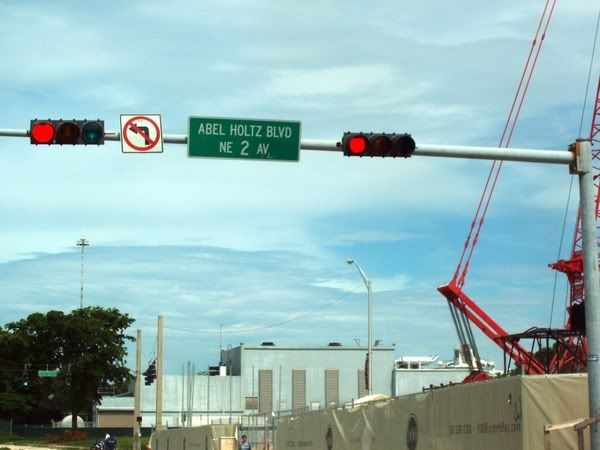 The Florida Legislature has assigned several commemorative names along relatively short segments of Biscayne Blvd. in Miami, in succession. This is where it gets confusing for some people. Miami-Dade County will place the commemorative name on top, with the "regular name" and street number/route number.
This segment of Biscayne Blvd/US1 is dedicated to Jorge Más Canosa, former leader of the Cuban American National Foundation: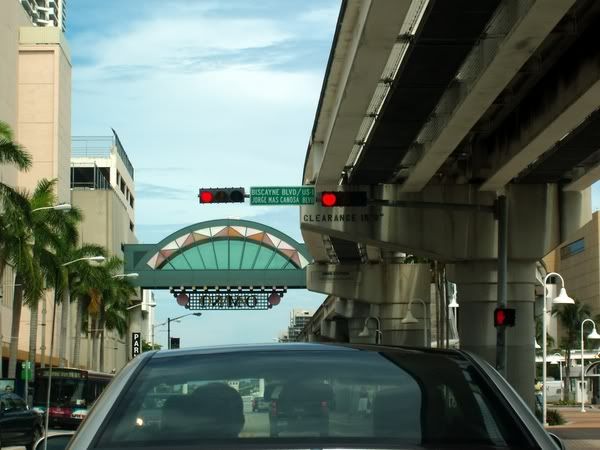 This segment is in memory of former Israel Prime Minister Yitzhak Rabin:
Other streets such as Coral Way, that have a name and a number...
...with an honorary name: